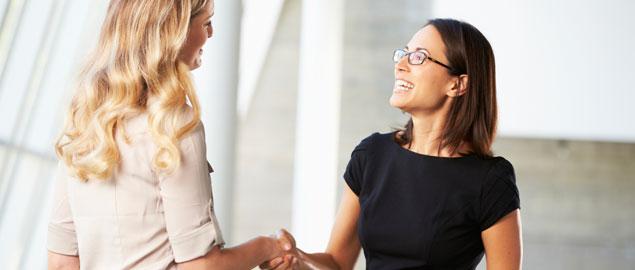 If you want to make a great first impression, donít try to look important, because trying to project a powerful image puts other people on the defensive. Dr. Albert Mehrabian is the author of Silent Messages. And he says that what you want is to make other people feel comfortable - here's how to do it:
Start with a smile. Our brains are programmed to perceive smiles in a positive way. In fact, a Penn State study found that smiling makes us appear more likeable and courteous Ė and also makes others see us as competent. And we tend to relax when we know weíre in good hands.
It's all in the handshake. When you shake hands, forget the firm, confident grip, and mirror the other personís handshake, instead. In other words, if itís soft, make yours soft. And if itís firm, go ahead and squeeze. Because studies show that we tend to like people who are more similar to ourselves.
Make eye contact. But you donít want to stare, because that can come across as threatening. In fact, this is another opportunity to use mirroring to your advantage. When the other person looks away, you should too. And pretty soon youíll get a feeling for what puts them at ease.
So, how can you tell if youíre making your new acquaintance comfortable? Look at their feet. Joe Navarro is a former FBI agent, and an expert in nonverbal communication. And he says that the feet are the most honest part of the body. So, if someone genuinely likes you, their toes will be pointed toward you. But if theyíre pointed elsewhere, odds are they just want to get away.