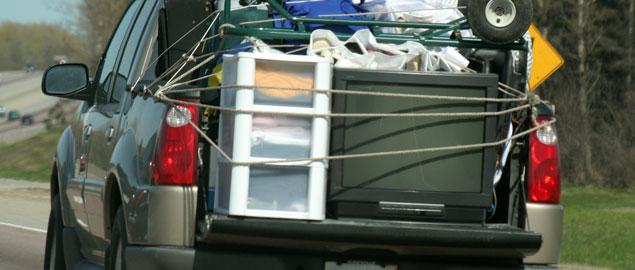 I may have grown up in Colorado, but my home is California. I love living in L.A. more than any place I've ever lived - and I've moved around a lot. My feelings for the Southern California coast started as a kid, when my mom, who's from the area, made it her mission to meet her sisters and their families at the beach every summer. From Hollywood to Universal Studios and Disneyland… it was all so glamorous and fun for a kid like me. Maybe that's why I like it so much now.
Living in L.A. started out as an idea during a picnic my husband and I had in the park. And it sounded crazy to some people. When I look back on it, the plan was a little bit out there. We quit our jobs in television, put all our stuff in storage, packed what we could in our SUV and hit the road for L.A. – less than a year before the big wedding we had planned. I remember pulling up to the Starbucks drive through on the trip and seeing the barista chuckle. The car was packed to the gills and we even managed to tie a kayak and a bike to the top. We realized how funny it must have looked, being all packed up like the Beverly Hillbillies and burst out laughing ourselves. Somewhere on that drive it hit us both – we were on one of the biggest adventures of our lives.
We rented a studio apartment for the first few months. Then we "graduated" to renting a room in someone's apartment. It was a huge celebration when we finally had our own apartment – although, sadly, the kayak never made it that far. My first job was working out of some woman's garage, where she read tarot cards, had me film her video blogs and post things on her Facebook page. I think many people who've moved to California have a story like that. It's like a badge of honor saying we do what we have to do. I eventually got a full-time assistant manager gig and we were able to have that amazing wedding we planned. Then I moved on to a job as a news writer in radio. A year and a half later, I scored my dream job, here.
It took me two years to get where I wanted to be in my career, in the city I love and don't ever plan to leave. That's pretty fast considering I started from scratch when I arrived in this state. Trust me, I know I'm one of the lucky ones. There was always a part of me that knew we were making the right move. There was the occasional disagreement (I hear you married people snickering at this one) and things haven't always been perfect. Was it scary? You bet. Did people tell us we were making a huge mistake by moving? Yes. But there's one thing I've learned in life: some of the biggest risks can lead to the biggest rewards. And that's a chance I'm definitely willing to take.