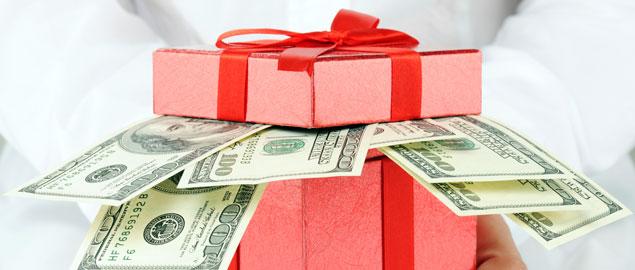 Is Your Donation Actually Going Charity?
Would you give money to charity if you knew most of it was going to expenses and not the actual cause? Find out what you need to know about donating your hard earned cash.
Playlist
Would you give money to a charity if you knew that 90% of it was going to expenses and not the actual cause? If not – listen up. Because we have intel you need to know about giving to charities these days.
Don't just text your donation! There are a lot of campaigns like "Text $5 to Hurricane Sandy Relief" – which people love because it easily lets you donate a few bucks instantly. But experts warn that after you hit "send," your donation can take months to land in the charity's bank account. That's because your phone company passes the donation to a third party operator that takes about a 10% cut, before they pass the leftover money to the charity. The best way to get more of your money to a charity is to mail a check, or donate via the charity's site.
Next time the grocery store cashier asks if you'd like to donate a buck to a cause, ask them how much of that dollar is going to the actual charity! Because usually when retailers, like grocery stores or pharmacies, run charity programs, there's zero regulation! And it's up to the store's executives to determine how much of the money goes to the charity – and how much the store pockets!
Before you donate to any charity either by text, online, or in person – do some recon! And find out if they're legit – and how efficiently they spend their money. Like does most of it go to the cause, or is it eaten up by the salary of their fancy board of directors? You can find out by researching sites like Charity Navigator.org, and Charity Watch.org.
Charities need more than money. If you're in debt, financial experts say your smartest move is to focus on your own bills before you shell out money to others. But that doesn't mean you can't donate clothes and old toys to Goodwill, or volunteer your time at an animal shelter or food bank.