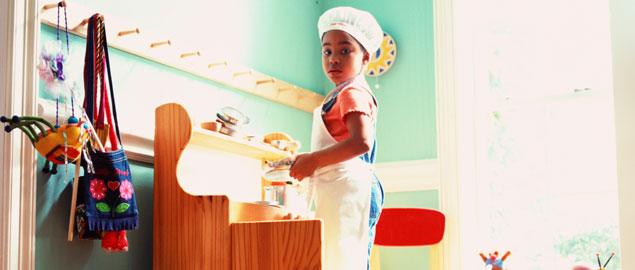 Is It Time To Start Selling Toy Ovens To Boys?
Find out what one teenager did - all in the name of getting a toy for her little brother - and why it could change how certain toys are marketed.
Playlist
Since the 40's and 50's, toy ovens have been marketed to girls - in pink. Is it time to let boys in on the action? McKenna Pope thinks so! She's a 13-year-old with a 4-year-old brother, who wanted a cooking set for Christmas. But when McKenna went looking for a toy oven for him, all she found were ones in pink and purple, with girls shown playing on the box.
So, she started a petition on change.org asking toy companies to reconsider the message they're sending, that only women cook. The fact is, most top chefs are men. And these days, more men are staying home to raise their children - which includes making meals every day.
What do you think? Is it time to see toy ovens and cooking sets aimed at boys and girls? A LOT of toys are aimed at one gender over the other - like chemistry sets with only boys on the box. Does that send a bad message to kids? Or are we overreacting?