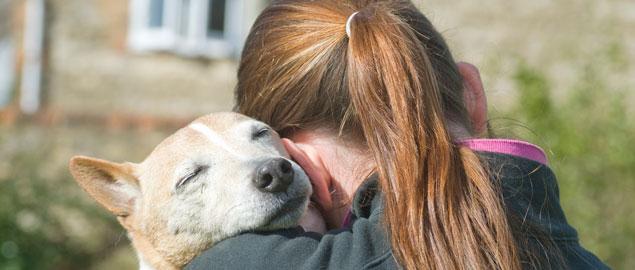 Are you convinced that your dog knows exactly how you feel? And that when you're sad, they deliberately come over to comfort you? Guess what: new scientific evidence shows that you're right!
According to the journal Animal Cognition, dogs respond to our emotions more than any other species does – even better than our fellow human beings! In the latest study, a variety of dogs were put in a room, and exposed to several 20-second "scenarios" to see how they'd react. For example, the dog's owner would come in and talk casually with a stranger. Or, the owner or the stranger would come in alone, and start humming, or would pretend to cry. The result? When the human pretended to cry, almost all the dogs watched them, approached them, or nuzzled, licked, or leaned against them. And that was true even with a perfect stranger. Someone the dog had no history with, and wouldn't expect to be rewarded with a hug, or a pat, or a treat. But all the dogs completely ignored the people who were talking. And almost none of them approached those who were humming, which showed that most of the dogs were motivated by empathy, not curiosity.
So, next time you're feeling blue, and your dog lays his head in your lap – you'll know he really is empathizing with you and is trying to make you feel better.