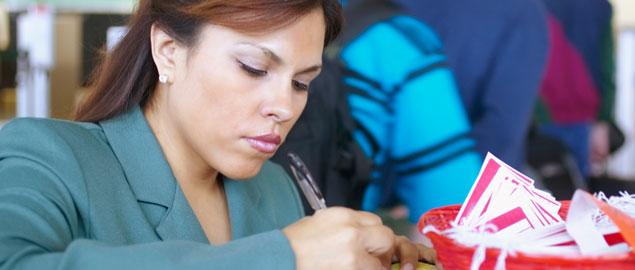 Save Travel Time By Self-Tagging Your Luggage!
Find out how you can cut down on the time it takes to check in for your flight by tagging your own bags.
Playlist
You can make your airline reservations online, and print out your boarding pass at home. So, why do you still have to stand in line at the airport to check your luggage? Well, the next time you fly, you may not have to! Because a lot of airlines are now letting passengers self-tag their luggage.
For most airlines, you pre-pay any fees on your home computer. And once you get to the airport, you input your travel information at a kiosk – and you can print out a sticker to attach to the suitcase handle. Then you drag your bag over to a baggage drop, where an employee checks your photo ID, and scans your bag into the system. Some kiosks even include scales so you can weigh your bag, and pay to ship it with a swipe of a credit card.
Some airlines are even letting you print out your baggage tags at home – like Alaska Airlines. You simply bring the printout to the airport baggage drop, and attach the tag to your bag with a reusable plastic sleeve.
Want to know if your airline will let you self-tag your luggage? Check out their website, or call their customer service number.