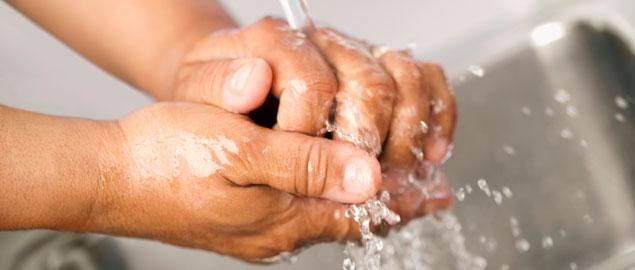 If you're looking to beat the heat or get out of the cold by heading to the mall, watch out for these 4 germ hotspots:
Restroom sinks. Researchers at the University of Arizona found that bacteria - including E. coli – congregate on faucets and soap dispensers. That's because people touch those surfaces right after visiting the toilet. To protect yourself, use a paper towel to turn the water on and off.
The food court tables. Infectious disease expert Dr. Elaine Larson says that the rags used to wipe down tables often spread germs from one place to another. So, if you can't avoid the food court, stash a few disinfecting wipes in your backpack, and give the table a once-over before you sit down.
The toy store. It's like Disneyland for germs. Kids handle multiple toys in the stores, Runny noses and all. And anything their parents don't buy gets put back on the shelf. Microbiologist Dr. Philip Tierno says that any toy that's not in a sealed box should be disinfected with soap and water, alcohol, or vinegar before your child plays with it.
The display of new tablet computers or smartphones. A study in the Journal of Applied Microbiology found that viruses are easily transferred between surfaces like Smartphone screens and your fingertips. In fact, when researchers swabbed tablet computer displays in stores, they found that half the screens contained the germs that cause staph infections. So, before you test drive the latest gizmo, wipe it with a disinfecting wipe. Or use a hand sanitizer after you're done.