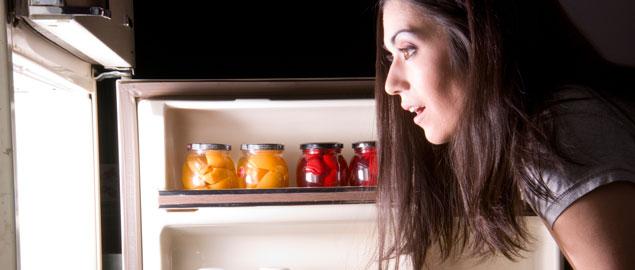 When it comes to losing weight – the rules have changed! Researchers are discovering what triggers weight gain, and surprisingly – it comes down to timing. Here are the two, new, hard and fast rules:
Stop eating at night. Before electricity and all-night diners, humans used to spend long stretches every night without food. Staying up late and noshing is a new phenomenon in human history! Dr. Satchin Panda is a biology professor at the Salk Institute – which studies cancer, aging, and diabetes. And he says, to burn the most fat, we need to go 12 hours without eating – say from 8pm to 8am. That's because our bodies are hardwired to expect a nightly fast. That's the body's key time to burn fat. But if you keep giving your body food, it never goes into fat-burning mode. It goes into fat-storage mode. And a glass of juice counts just as much as a bowl of Ben & Jerry's. It interferes with your fast.
The second weight loss rule? Eat, sleep and wake at the same time every day. Every organ in our bodies has a regular daily cycle – and they work best when we stick to a regular pattern. That way, our bodies know when to expect food – so we can process that meal most efficiently. This why overnight workers tend to gain weight - their bodies never fully adjust to their overnight schedule. That's because when they aren't working, they try to live a normal life with the people who are awake during the day and sleep at night. So their bodily rhythms are constantly out of whack. But no matter when you work – if you eat, sleep and wake at the same time every day, including your days off, your metabolism – and all your organs – will stay in peak form.
So here's a cheat sheet for keeping your metabolism going – and your body in sync – so you won't gain weight:
Keep a regular sleep schedule.
Go without food for 12 hours a night.
And when you do eat, eat at the same time every day.