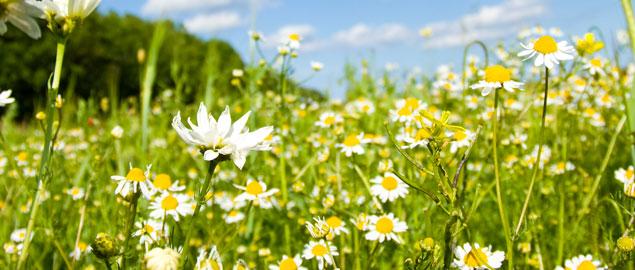 The hottest thing to do to a backyard these days is to turn it into an overgrown meadow! One that requires practically zero maintenance.
Landscape architects report that thereís a flood of homeowners, cities and even Fortune 500 firms that are racing to give lawns a meadow makeover. And sales of prairie meadow grass have jumped 60-percent in the last year. One example is the Palisades Garden Walk under construction in Santa Monica, California. Itís ditching lawn space for meadow grass. And at Appleís hip new headquarters, acres and acres of meadows are being planted.
So, why are meadows in? Experts say theyíre much more eco-friendly compared to regular lawns, which consume monster quantities of water and chemical fertilizers. So youíll help the earth and your wallet. Another huge selling point? Meadows only need to be mowed once a year, since the grass is supposed to be long and overgrown!
But thereís a cost of turning your back yard into your personal prairie. It takes roughly 10 pounds of wildflower and grass seed per half acre of meadow. And since the typical seed mix costs about $100 per pound, itíll run you about $1,000 to cover a half-acre lot. And itíll take roughly 3 years from start to finish.
But if youíd like to turn your lawn into a meadow, follow these tips:
∑ Kill the grass! Apply herbicide, once in the fall and once in the spring. Thatíll get rid the lawn, and youíll have all fresh soil to work with and plant over.
∑ Pick a mix of meadow seeds to plant. Experts suggest going for a 50-50 mix of grass and flowers, like wildflowers, to give it a blended and shaggy look.
∑ Cut your meadow just once a year. Experts say most meadow grass should be 12 inches max. Any higher, and it wonít look like a meadow, but an overgrown field!
Would you give your yard a meadow makeover?