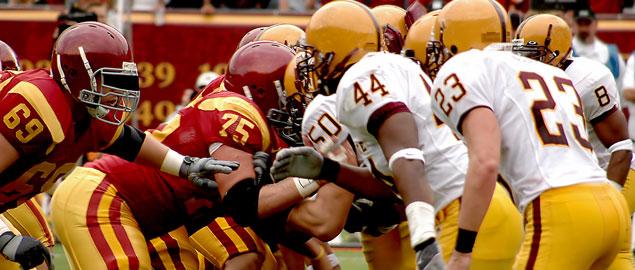 Leaves are falling and nerds everywhere are playing Fantasy Football! Yup, itís that time of year when 30 million people across the U.S. and Canada indulge in fantasy football.
Itís an $800 million dollar industry in which participants select real professional football players to compile their fake teams and bet real money against other people as to who will win.
But is this type of fantasy life healthy for us? Psychologically, yes. The biggest reason itís so popular right now is because it offers a much-needed social escape during tough times. If your job situation is getting you down, draft day with your friends can lift you up. But itís not so healthy for the workplace. Fantasy football drains $9 billion dollars out of workplace productivity each year.
It is healthy for the economy though. Fantasy-related cottage industries have sprung up, like trophy businesses. Fantasy Football trophy sales are up 50%. There are even lawyers who will help you settle Fantasy Football disputes, like FantasyDispute.com. And insurance companies, like FantasySports Insurance.com, in case you lose!
And shockingly, thousands of teachers are using a workbook called Fantasy Football and Mathematics, and itís working. Teachers using that workbook report that their students have higher grades and more enthusiasm for math!
So the next time somebody scoffs at your interest in Fantasy Football, tell them youíre not only helping the economy, youíre improving your mental health and educating children.