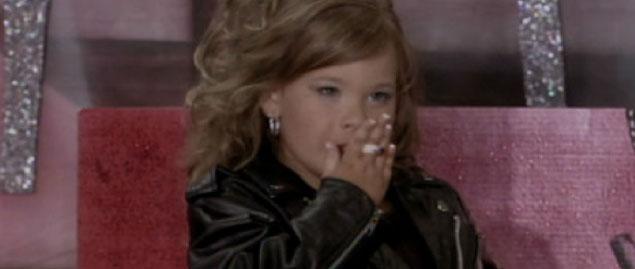 It's time to renew the debate over candy cigarettes. They're back in the news after a recent episode of the reality TV show, "Toddlers And Tiaras." In the show, a 4-year-old girl named Destiny competed in a pageant where she dressed up like Sandy from the movie "Grease, " and pretended to take a drag on a candy cigarette It was meant to be fun. But many anti-smoking activists were not impressed. They said actions like that "desensitize" kids to the dangers of smoking. In fact, a spokesperson for the American Lung Association describes candy cigarettes as "training wheels for smoking. "
Why? Because a landmark study in the British Medical Journal found that the tobacco industry actually had a hand in designing candy cigarette packaging to look like the real thing. As an example: One candy brand we read about comes in a red cigarette-like box. And from a distance, it could easily be mistaken for a pack of Marlboros. Plus, when you puff on one of these candies, they release a cloud of sugar that looks like real smoke. This study says that's intentional, because the packaging is meant to promote smoking to children! The thinking is that candy cigarettes teach kids how to behave with cigarettes until they're old enough to smoke the real things. That's why sales of candy cigarettes are restricted in Great Britain, Australia, and Canada.
However, they're still widely available in the U-S. And a lot of people say this is much ado about nothing, since candy cigarettes have been around for a century ­ and they don't kill anybody!

So, what do you think? Do candy cigarettes really teach kids to be smokers?