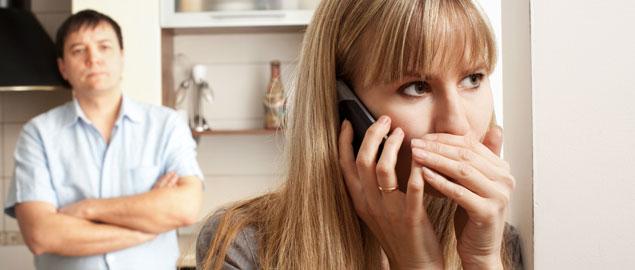 Here's a list of subtle red flags that often signal your partner is hiding a "destructive secret." These come from licensed psychologist Dr. Sheri Meyers, who wrote the book Chatting Or Cheating:
Your partner suddenly wants more "space." That includes being physically distant, or when they talk in terms of "me" or "I" - instead of "we" or "us." Dr. Meyers says that's a sure sign your partner has withdrawn emotionally, and is making themselves less available to you.
They've lost interest in you or your problems. When you talk about a bad day at work, they have no sympathy, or start telling you that their problems are worse! Dr. Meyers says it's a bad sign when you can't rely on your partner for emotional support, or you feel lonely even when you're both together.
They constantly make YOU feel bad. Dr. Meyers says cheaters are good at transferring guilt to their partners. So, they may suddenly pick more fights where they know they can blame you for something. That's their way of easing their guilt, to make themselves feel better about an affair.
Your partner's suddenly hard to reach. In healthy relationships, couples have ways of getting in touch with each other at any time – via call, text, or email. So, it's a bad sign when someone who always returns your calls right away suddenly has a new excuse each day for why they couldn't use their phone.
They suddenly act secretive around their cell phone or computer. Dr. Meyers says that's usually a sign that someone's involved in an emotional affair online – which is just as damaging as a physical affair. The most obvious signs are if your partner has a Facebook account that you don't have access to. Or, they disappear into the other room to take phone calls - and when you ask about it, your partner always says "it was a wrong number."
They're looking better, but not around you. Have they suddenly started working out more at the gym? Or wearing new outfits when they leave the house? If you notice your partner has a newfound interest in looking their best – and you're not reaping the benefits - it generally means they're having an affair.