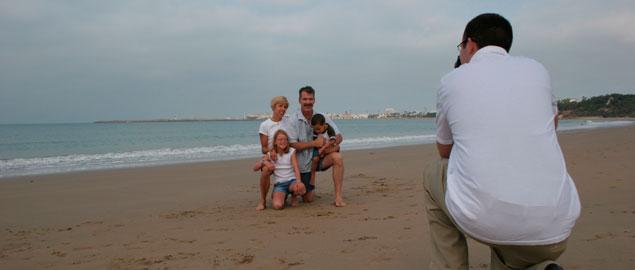 Latest Vacation Trend: Hiring A Photographer To Take Pictures
The new vacation must-have is a session with a professional photographer. Would you fork out the money for it?
Playlist
What's the latest vacation must-have? A session with a professional photographer!

Why? Because we're tired of trying to capture special moments, and ruining them by stressing about focus and flash. We don't want to hold our cameras at arm's length to take less-than-flattering self-portraits, or grab passing strangers so the entire group can be in the shot. And now that we're splashing our vacation pics across Instagram and Facebook, we want better-looking shots, along with pictures our smart phone cameras just can't capture, like action footage of us surfing and snorkeling.

In fact, a growing number of hotels and resorts, and freelance photographers, are offering couple and family portrait sessions, here professionals snap shots of you on bicycles, in a hammock, and on a dock at sunset. And for action shots, like water skiing, a sports photographer will even ski alongside you, snapping pictures as you catch some air. And they'll make you look even better than real life by digitally retouching pictures to erase blemishes and stray hairs, brighten teeth, and slim down arms and thighs.

There are special perks, like at Disney World, where they photograph you around Epcot Center before it opens for the day. Vacation photo packages can run anywhere from $100 for an hour, to $3,000 for a half-day shoot. If you're interested, check with your hotel concierge.
Would you spend that kind of cash to get great vacation pics?