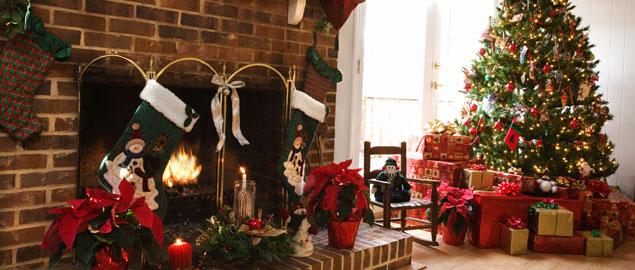 Blog: Why I Love The Holidays
One of our staffers explains how her appreciation for the season has changed over the years and why it means even more now.
Playlist
Iím a huge fan of the Christmas season. You know the people who put up all their Christmas decorations the day after Thanksgiving? Yep, thatís me. Iíve always loved the holidays, but my reasons have changed over the years. And now, I love it even more than I did as a child.
When I was little, it was all about ripping open presents under the tree and playing with my new toys. And, of course, there were annual traditions that I looked forward to. Each year, my brother, sister and I got a pad of paper and colored pencils in our stockings. My mom baked adorable green wreath spritz cookies Ė a tradition that began with her mom. My family also made a point to sit down together and watch the old school holiday movie, ďWhite Christmas.Ē Now, those same traditions continue in my house. They are an important part of the holiday season for me and they make me feel connected to my family, even if they arenít nearby.
And I love the holiday shopping: everything smells of cinnamon and there are sale racks everywhere! I adore the windows in the mall decorated with a holiday theme. There are twinkling lights adorning peopleís homes and Christmas carols playing in the stores. Plus, most people are a little nicer this time of year. Letís face it - who can resist a little dose of Christmas cheer?
But as I have gotten older, Iíve noticed the thing I love most about Christmas is the people I spend it with. Every year, I am more thankful to have them in my life: to be able to laugh with them, chat with them, love them and receive love in return. Sure, with so much going on, the holidays can stress us out. But even still, I try to remind myself that there is so much to appreciate Ė even if my appreciation is for five minutes of quiet time in the crisp night air!
Now, I am happy to just sit and watch my niece and nephew tear into their gifts with surprise and delight. And I am filled with joy watching everyone open the presents I have carefully selected for them. Sometimes, in the middle of all the hustle and bustle, I just sit back and watch it unfold all around me. Whether Iím honoring the traditions I grew up with, or making new ones in my own home, I try to remember to be in the moment and soak it all up. After all, itíll be another year before the festivities start all over again. In the meantime, I think Iíll have another cookieÖ