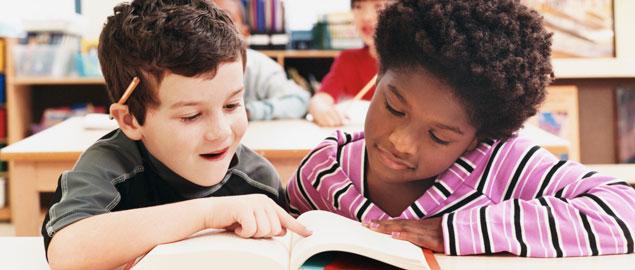 The key to succeeding in school is being able to read by the third grade. That's the gist of several new studies showing that if kids haven't figured out how to read by then, their ability to keep up with other subjects will also decline. A study from City University of New York recently found that students who couldn't read at an "average" level by the third grade were four times more likely to drop out of high school, compared to students who could read.
Why's that a big deal? Because based on this research, a growing number of schools are adopting new policies to identify and help students who are struggling with reading skills. And schools in 14 states are now required to hold students back, and make them repeat the third grade, if they can't pass a reading test. The thinking is that it's better to hold students back when they're young, to give them more time to catch up.
Believe it or not, the new policies affect an estimated 1-in-10 students today and, as you might expect, experts have mixed feelings about them. For example, many studies show that students who are held back tend to have less confidence. Over time, that makes students feel less "engaged" in school, so they're more likely to drop out.
But get this - struggling students who repeat the third grade do generally score higher on reading and math tests over time, compared to students who can't read, but are promoted to the fourth grade anyway.
It's something to keep in mind as a new school year gets underway. According to this new research, the best time to judge a student's entire academic career is when they're in the third grade.