The Gramp Stamp: Yep, I Got One.
Gramp Stamp, as I'm sure you've already guessed, is a term for those of us who've gotten tattoos as a more mature adult. Us? Yes, it's true, I'm now part of the growing percentage of grandparents who have gotten a tattoo. I now have my wife's name permanently stamped on my forearm. Connie's given name is Concetta so the tattoo bears that name plus a statement of my faith and my passion for music.
Grandparents.com says the Gramp Stamp trend has gone mainstream and a poll of tattoo parlors (wouldn't you love to hear those conversations) confirms that we grandparents, aka baby boomers, are anxious to show our dangerous, more creative side. I have to admit that when I am in business meetings with my sleeves rolled up I get some raised eyebrows and I also must admit that now I want a snake, an American flag and my kids' names on my left shoulder, but I'm waiting so that can be my 'Great Gramp Stamp'.
By the way, one of the funnier things that happens to me as I meet and greet people after our concerts? A lot of people will say " Wow, a tattoo, that's risky. What if you don't like it later in life?" My reply: "I'm not sure if you've noticed, BUT IT IS LATER IN LIFE!"
Please use the space below to A. tell me about your gramp/gram stamp or B. tell me I've lost my mind.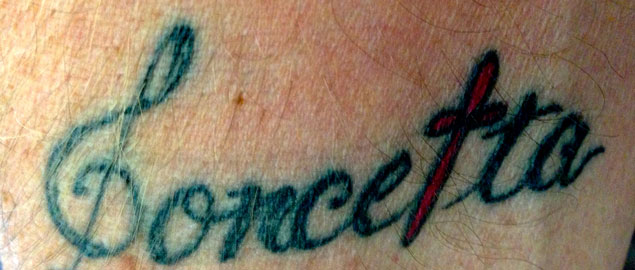 Back